Puerto Vallarta Yacht Charters is thrilled to find that perfect yacht for that special occasion or the perfect party.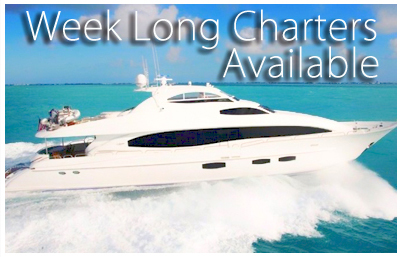 Our team at Yachts Puerto Vallarta believes in strong relationships with the customers and therefore we work hard to provide you with the best yachts and the best services to make your experience a memorable one.

Regardless of the nature and size of your event or yacht trip, we try our best to provide you with the absolute best at the most competitive rates. We provide our customers with special yachts for every kind of event including weddings, receptions, anniversaries, corporate meetings, family gatherings, dance parties and every other event.

At Yachts Puerto Vallarta our services are tailor made to fulfill all your requirements. We strive hard to exceed your expectations with the quality of yachts and the services to go with it. We have well trained and experienced staff that will help you with all the arrangements and management of all your yacht events. We are proud to have huge experience on organizing all types of yacht events in Puerto Vallarta. Some of the events include:

Puerto Vallarta Weddings on a Yacht
Anniversaries and Birthday parties
Bachelor and Bachelorette parties
Bachelor and Bachelorette parties
Corporate events
Private cruises
Intimate dinners
Family gathering
At Yachts Puerto Vallarta, we offer the following services to make everything hassle free and more enjoyable for you and your guests.
Gourmet Catering Puerto Vallarta
Our team loves to provide you and your guests with a fine dining experience at our yachts. We have experience of providing catering services for events of every extent; from a dinner to two to a huge corporate dinner. Our team is well equipped to handle all sorts of parties and can provides you with amazing offers at the most competitive prices.
Onboard Entertainment Puerto Vallarta Yachts
Puerto Vallarta Yacht Entertainment
Yachts Puerto Vallarta also provides its customers with top quality on-board entertainment services. These services include music system, live singing, musicians, D.J. stand-up artists and much more. We provide you and your guests with all sorts of entertainment to make their time at the yacht much more enjoyable.
Event Photography
Yachts Puerto Vallarta has hired a team of expert photographers who can capture all the memorable moments of your yacht events. You can get these memories in the form of printed pictures, or as a soft copy in a DVD or a flash drive. To know more about the photography packages and process contact us now!
Puerto Vallarta Event Planning
Organizing a wedding or any other special event in a luxury yacht makes it much more special. This is why we have a team of professional event planners that help our customers in planning and managing the event in a much more professional and efficient manner. From catering to decoration, we take care of all the tiny details to make everything hassle free for you and your guests. Now you can sit back and enjoy the most special day of your life as we take care of everything.
47' Riviera Fishing
With a Spacious Saloon and the generous beam provides this vessel with large and deep space and therefore the spacious cabin has features such as the generous tables. Great for private fishing excursions, snorkeling, PV Whale Watching, or just relaxing.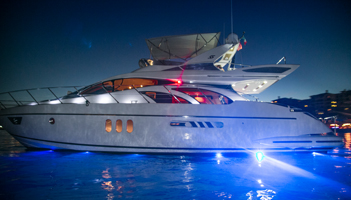 55' Azimut Luxury
This 55' Azimut Features finished furniture in Briar Woods and Cherry Wood C shaped leather seating. This is a beautiful luxury yacht that is perfect for all kinds of private evnt charters..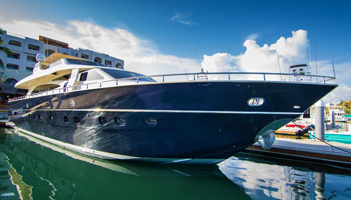 90' Canados Yacht
This Canados and its excellent wood works makes a big difference between Canados other yachts of the the same type. Perfect for that special events can hold larger groups of 30 max.